About the School
Founded in 1977, Académie de Musique de LaSalle Inc is a musical institution that provides the highest standard of education relating to all aspects of music. The school is owned and directed by Louie La Posta. We provide private instruction across a variety of musical genres including classical, pop, rock, blues, jazz and electronic.
Académie de Musique de LaSalle Inc offers a holistic approach that includes music theory, interpretation, technique and improvisation. Simply put, we create musicians. We are also well versed in preparing students for examinations (Royal Conservatory of Music), concerts and auditions.
Our Teachers
The teachers have degrees in music and are experienced, versatile and accomplished musicians. Their experience and interests range in a number of musical styles such as classical, pop, rock, blues, and jazz. The teachers can help students prepare for examinations, concerts and auditions.
Louie LaPosta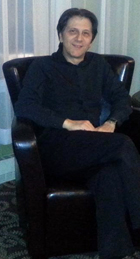 Louie La Posta was born on August 10, 1956, Montreal, Quebec, Canada. Louie graduated from Concordia and later obtained a graduate studies from McGill University in the field of music. He also took private guitar lessons with an instructor from G I T (Guitar Institution of Technology). Since the age of 13, Louie has been involved with many groups playing different styles of music from Latin, Rock, Metal, Disco, etc. Louie played in various bands which traveled throughout Quebec, Ontario and the States. He gained a lot of experience playing in Recording Studios, Clubs, Hotels, etc.
Louie is an accomplished guitar synthesis who plays all tracks of his own music, including arranging and recording them all in his own studio. Louie has been playing guitar and singing for over 48 years and taught for over 37 years. He has written and composed his own songs. In 1974 he recorded two singles "Shame On You" and "Stay Away Girl" which received airplay in Montreal. In 1979, he performed all the guitar tracks for a Portuguese album called "De ontem…de hoje" starring Antonio Rios. In 1980, he won a contest on Big Dan's Bandstand for his original song called "Sad Times" which was aired on CKGM Radio Station.
Louie is multi talented, plays guitar, bass guitar, piano, saxophone and also sings. Has written his own exercise book called "Modern Approach to Guitar" includes tab and theory. Written software for metal lovers call "Jam It" includes 50 licks, jam sessions and theory. In 1992, Louie gave guitar correspondence lessons internationally under the corporation called "Home Study Tape Guitar Correspondence".
In 1977 Louie founded LaSalle Music Academy Inc. His school is committed in teaching the students a solid foundation in technique, music reading, interpretation and improvisation. Louie insists that all his teachers take their job seriously and make every effort to make the students learn while at the same time enjoying the experience.
Over the past 37 years the school has grown and is now well recognized all around Montreal.
Jennifer Galatis

Jennifer Athena Galatis from the beginning of her career, she charted new directions for composing, pushing the boundaries of classical orchestration with the use of electronic instrumentation. Over the last decade, she has been recognized for incorporating computer-generated electronic instruments in combination with a real orchestra for film scoring.
Born in Canada, and the daughter of Greek immigrants, Galatis moved to Athens, Greece in 1978 as a child, and it was there where she took her first music lessons. While still at school, her work was performed in many concerts around Athens. Her composition teacher Yannis Kastrinos was one of her mentors. Kastrinos was very surprised by her first symphony written at the age of 13 and he told her he will never show his compositions to her because he didn't want to influence her style. She graduated in 1988 from the National Conservatory in Athens with a performance and composition degree, and soon after went to study piano with Oxana Yablonskaya at Julliard, and she has also worked at McGill University as an assistant to Professor Charles Reiner.
Over the course of her career, she has been the recipient of numerous national and international awards in recognition of her achievements as an artist. Galatis works are included in numerous trailers, documentaries, TV shows, and films. Her classical music works have been featured on CBC radio and Radio Canada. Galatis presently works as a teacher at LaSalle Music Academy and she's an associate professor with the Royal Conservatory in Toronto.
André Chalifour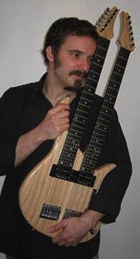 André Chalifour began studying music at the age of 18 and at 21, after studying classical guitar at Vincent d'Indy; he obtained his Diploma of Collegial Studies in jazz at Marie-Victorin College. He learned the art of bebop at the University of Montreal in 1996. In 2002 he earned a BA, with distinction, for specialization in jazz studies from the Faculty of Fine Arts at Concordia University.
In 2006, he successfully completed his studies in classical guitar and obtained a Diploma in Advanced Music Performance Studies. In 2008, he discovered a new way to play the electric guitar, the Technical Touch or polyphonic tapping with 2 hands. This is a technique that allows him to play with 2 guitars at the same time. He now specializes in this style of playing through Blues, Jazz, Classical and Pop / Rock and Metal music.
Since 2001, André has been teaching guitar, electric bass, piano, theory and ear training in several music schools in the Montreal area. In 2007, he began teaching music to young people in primary schools in Laval and St-Jérome.
André Chalifour is a very active musician on the current music scene and works with a variety of musical groups.
Concerts
Twice a year, we offer our students the opportunity to participate in our recitals. We encourage students to participate in the recitals to develop performance skills and self-confidence. Parents, family and friends are encouraged to attend.